SDSC Won the Overall Champion in the President's Cup 2023
The President's Cup 2023 successfully completed on 30 May 2023. Through three different sports tournaments, the President's Cup aims to enhance interaction and foster the bonding among colleagues and to promote healthy living and sports atmosphere on campus.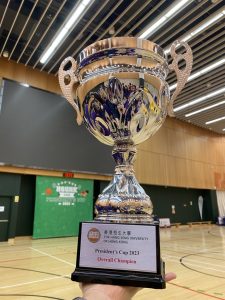 Colleagues from five Schools, administrative offices and academic support offices were divided into six teams for the matches. It kicked off by basketball on 23 May, followed by badminton on 25 May and concluded with table tennis tournament on 30 May.
With colleagues' enthusiastic support, almost 50 talented players participated in the events. We had an excellent performance in basketball and badminton, gotten the Champion in women's shooting, 3-on-3 men's basketball and badminton. Although we faced a bit hard tournament in table tennis, effort and practices rewarded with 2nd runner up.
After 3 days of intense competitions, we are pleased to win the overall champion in the President's Cup 2023. Results of School of Decision summarised as follows, 
Sport Tournament

Basketball

(Women's Shooting)

Basketball

(Men's 3-on-3)

Badminton

Table Tennis

Rank

Champion

Champion

Champion

2nd Runner Up
We had a lot of fun and we are looking forward to the next time round.
SDSC table tennis team awarded with 2nd Runner Up
SDSC badminton team awarded with Champion
SDSC basketball team awarded with champion in men's 3-on-3 and women's shooting challenge.
SDSC team awarded with overall champion in President's Cup 2023